New One Minute English Videos
Try this speaking tip to improve your speaking fluency!

1440 What is the best beach you've been to?


1439 Have you been to a nice island?


1438 (2) What makes you nostalgic?


1438 (1) What makes you nostalgic?


1437 What do you do for homesickness?


1436 Do you wear a school uniform?

Last Week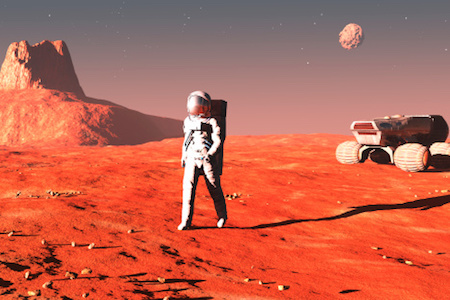 Views #1431 Living on Mars


Can people live on Mars someday?
Views #1432 Going to Mars


Should we go to Mars or the Moon?
New One Minute English Videos
1435 Where do you get your clothes?


1434 Do you want to be a teacher?


1433 Who was your favorite teachers?


1432 How do you feel about space travel?


1431 Should we go to Mars?

Previously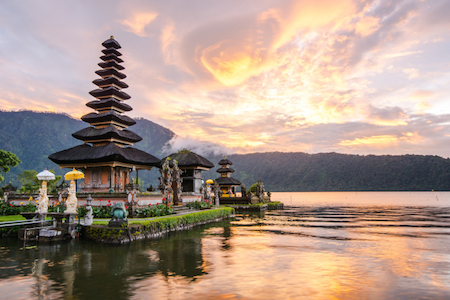 Views #1430 Special Spots



Widuri talks about two special places in her country.
Views #1429 Beautiful Bali
Widuri talks about Indonesia's most famous island.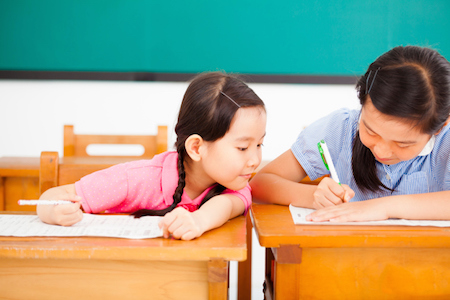 Views #1427
Cheating Students


Gilda talks about dealing with cheating.
Views #1428
Caught Cheating
Two teachers confess to cheating.
Views | Natural Conversations
Videos | One Minute English
Watch videos of English speakers answering interesting questions. Learn Engish in less than sixty seconds!
Over 700 Videos >>
Mixer | Six People - One Question
Listen to six people from around the world share their thoughts about one question. Quiz and vocab included!
See all 150 lessons >>
Games | SixPix
Great for beginners! Listen to an audio description and then choose the correct picture to match the audio. Lots of fun!
View all >>
News Center | Academic English
Watch an animated newscast and then answer questions about the report. These lessons are Flash based.
View all >>
What is ELLLO?
ELLLO! Welcome to English Language Listening Library Online. My name is Todd Beuckens and I am an ESL teacher in Japan. I created ELLLO to help students (and teachers) get free listening lessons online. I post two new lessons each week. Get free lessons and updates via email here .
You can contact me here.
Free Lesson Downloads
Oct 5 - Travel Tips for Denmark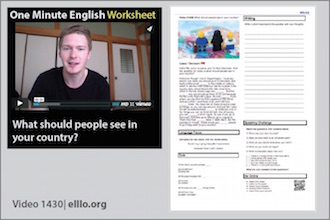 Free printable worksheets for teachers and students looking for in-class or offline materials.
Previous Lessons | Updated Regularly
Oct 4 - Travel to Indonesia
Oct 3 - Taking Tests vs Writing Papers
Oct 2 - What makes a good student?
Oct 1 - What is your favorite animal?
Past Lessons: September 2016