Hey, guys. What's up? This is your teacher, Todd, talking to you for elllo.org, and today, I am at the beach. I am relaxing. It's Sunday, and I like to come to the beach on Sunday, because it's
quieter
, and it's
more peaceful
. Sometimes, it's really lively here, and on Sunday, usually the beach is
more peaceful
, more relaxing. And now, it is getting dark. It's actually getting
darker
, this time of year, because it's Fall. 
So, the weather's getting
cooler
, and the temperature is dropping, but I kind of like that, actually. It's just a really nice time of year, you know? I like the Fall, because it's just
prettier
. I think the weather is
nicer
. The scenery is
more beautiful
, and it's
cooler
. It's not so hot, so I really, really like the Fall. So, I'm having a good day today, enjoying myself at the beach.
What about you? What's the weather like where you live? Is the weather getting
warmer
? Is it
nicer
than before? Are you
happier
than before? I hope so. I'm
happier
right now, because the weather is
cooler
, and it's not so hot. 
Comparatives
One Syllable / -er
small – smaller
cold – colder
young – younger
One Syllable ends in /e/ -r
safe – safer
nice – nicer
close – closer
Consonant + vowel + Consonant -(x)er
hot – hotter
big – bigger
fat – fatter
Two Syllable ends in /y/ -ier
happy – happier
angry – angrier
hungry – hungrier
Two or More Syllables >> more -
dangerous – more dangerous
expensive – more expensive
difficult – more difficult
Irregular
good – better
bad – worse
Answer the following questions about the interview.
Keep Listening
Got another minute! Try these lessons.
---
The more you listen, the faster you improve!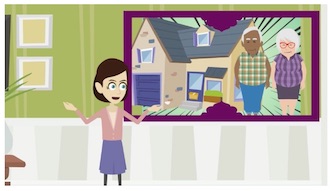 Listen to Katie compare two things using the comparative form of adjectives.