Mark / England <> Sorie / Honduras
Hide / Show Transcript ( + / - )
Sorie: And my name is Sorie.
Mark: Our question is if you had lots of money what would you invest in?
Sorie: I would invest in houses.
Mark: Houses?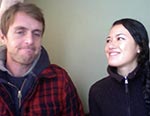 Sorie: Yes.
Mark: For yourself or ..?
Sorie: No, I would buy old houses, renovate them, and rent them again for a better price.
Mark: Ah, you wouldn't want to live in it yourself?
Sorie: No, it's not for me. It's for renting.
Mark: Right, for making money.
Sorie: Yes.
Mark: I see.
Sorie: How about you?
Mark: If I was going to invest in something, I would invest first in my family. I would make sure my family had everything they needed.
Sorie: It's a really good investment.
Mark: Right. Great.