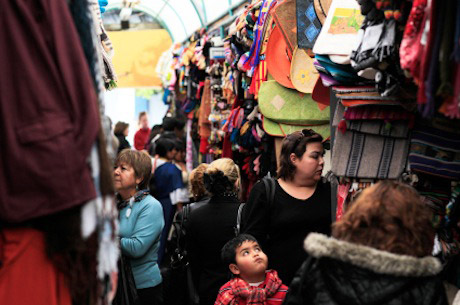 1243 Culture Comparison

Felipe talks about how life seems different in Colombia and Ecuador.
Transcript
Slide Show
Audio Notes
Katia:
Hello, Felipe, how are you?
Felipe: Hello, I'm fine. You?
Katia: Good, good, but, you know, I was wondering for me Ecuador and Colombia seem to be so the same. Can you tell me how can I distinguish them or what is the difference between Ecuador and Colombia?
Felipe: Well I don't think, maybe OK let's say culture is pretty much the same but let's talk about people OK? Ecuadoreans and Colombians are different I think. Colombian people are more hard working people. They really, they really worry about working and earning a lot of money and stuff like that, you know. But Ecuadoreans are more like, you know, easy-going people so I think that's the main difference between them.
Katia: That is so interesting. What about climate or the cities or the nature? Is there any differences between Ecuador and Colombia?
Felipe: Yes, you're right. The climate and environment is quite different. Well, there is one similarity and it's that they, both countries have their highlands which is the Andes highlands and the Amazon region and the coastal region but the size of the countries are different. Colombia is a huge country and also it has the Caribbean Sea which Ecuador doesn't have. And now if you look at Ecuador, Ecuador is quite a small country compared to Colombia.
Katia: That is so interesting. What about some similarities? Is there any similarities between Ecuador and Colombia?
Felipe: Well if you, yes there are many similarities. For example, if you look at the food, mainly the food is composed of, you know, potatoes and corn and many fruits that both countries have so if you travel to Colombia, if you travel to Ecuador, you will pretty much find the same kind of food because it's made of the same, from the same kind of ingredients.
Katia: OK, perfect. So now I have a better idea of the differences and some similarities over Ecuador and Colombia. Thank you, Felipe.
Felipe: OK, you're welcome.

Vocabulary notes (text only) explain key vocabulary and phrases from the interview.