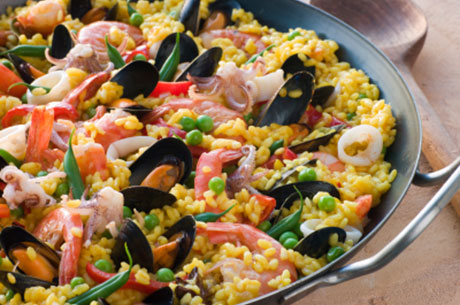 1273 Spanish Cuisine
Adelina from Spain talks about some of the best dishes from her home country.
Transcript
Slide Show
Audio Notes
Chris: So Adelina, Ade, you just told me you're from Spain, so let's talk about gastronomy, food. They say a really good gastronomy in Spain, is that true?
Ade: Of course it is. We have the Mediterranean food, it's well known for being tasty and healthy, like for example, our olive oil, our fresh fish coming from the north and the south. And we also have very good wines.
Chris: So if you'd have to name three of the really better dishes in your country, what would you say, what would be your three favorite dishes?
Ade: Paella of course.
Chris: Paella, yeah, that's true, but there are a lot of different paellas. No, they say the paella they make in Valencia is the better one, do you agree on that or is it the same everywhere?
Ade: Well they said paella, Valenciana is the name. But it comes from Valencia but it doesn't mean that there are not good paellas in any other places. Actually where I am from in Almadia, they do very, very tasty paellas.
Chris: And of course, can you explain the difference because people like me from the north, that they just come for tourism in summer, we just ask for paella, but there seem to be different paellas. Could you explain that a little bit?
Ade: Yeah, you have three different types. You have the meat paella, that they put of course some meat on it, you have the fish paella that they put only fish on it and then you have the mixed one that you can find both.
Chris: So which one do you suggest I should take when I go there?
Ade: The fish one of course.
Chris: Okay, I'll take your word on that.

Vocabulary notes (text only) explain key vocabulary and phrases from the interview.