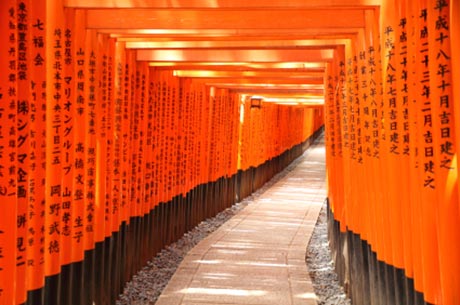 1277 Tips on Japan
Hana talks about things you can do in Japan and gives other travel tips.
Transcript
Slide Show
Audio Notes
Daniel: So Hana, I'm planning my first trip to Japan, but since I've never been there I'm not really sure what I should do. Is there anything you can help me with?
Hana: Well first you should definitely go to a temple or a shrine. It describes Japan. And there are many famous temples all over Japan. So you should definitely visit one.
Daniel: Okay, that sounds really interesting. Anything else that I should try? How about for example, Japanese food?
Hana: Well Japanese food is very famous, for example, fish like sushi or sashimi, Japanese people love it, and so does foreign people.
Daniel: Yeah, especially because sushi is getting really, really popular everywhere now. So I'm really looking forward to trying proper Japanese sushi. How about anything else, any like cultural experience or something that Japanese people do every day?
Hana: Well you should try and go to an onsen, it's a hot spring, it's a big bath where you can all go. It'll be different and it would be kind of weird at first. But I'm sure you'll enjoy it.
Daniel: Why do you say it's going to be weird?
Hana: Well a lot of people at first, they're embarrassed to be naked in front of people. But once you get used to it, you'll enjoy it and you would want to go every day.
Daniel: Yeah. I'm not sure if I'm okay with being naked in front of people. But if you say that I have to try it I probably will. Do you have any big celebrations or any like big events that I can see in Japan?
Hana: Well, in Japan there are many festivals all around the year. For example, in the summertime there is a huge festival where there is parades and you get to see the fireworks and you can see people in their traditional yukata. And you can try lots of food too.
Daniel: Oh, that sounds really interesting, especially because I'm going in summer. Is there anything I shouldn't do in Japan or that I should be really careful with?
Hana: Well, Japan is a very quiet country and a very polite country. So you shouldn't be too loud or you should be polite to the older people.
Daniel: Well yeah, I'm trying to keep that in mind, because especially my friends are quite loud. Thank you very much for the tips.
Hana: You're welcome.

Vocabulary notes (text only) explain key vocabulary and phrases from the interview.