Views #1403 | High-Intermediate 4
Beauty Pageants
Gilda talks with Aimee about the popularity of beauty pageants in Venezuela.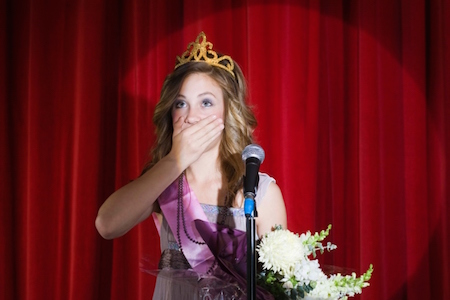 Aimee: Hey, Gilda. I heard that beauty pageants are really popular in Venezuela.
Gilda: Yes, they are. They are a huge thing in Venezuela. Everybody loves beauty pageants. It's like the Super Bowl in America, for Venezuelans it's beauty pageants.
Aimee: Really?
Gilda: The Miss Venezuela, that's how they call it.
Aimee: Oh my goodness.
Gilda: Yeah.
Aimee: Okay. So from what age are children…?
Gilda: It's like almost 90 percent of Venezuelan girls dream of being once in the, in this beauty pageants because once they got in, they get all some sort of surgery and, you know, they make them really, really look beautiful. And then after that they get jobs like models or actress. You know, Venezuela is also into soap operas.
Aimee: Right.
Gilda: So most of them want to be an actress one day.
Aimee: That's so specific though, isn't it? A model or an actress. Ninety percent of the population—of the girls?
Gilda: Yeah. Well, it's because of the economic situation. So it's easy money, in a way.
Aimee: Right.
Gilda: Yeah.
Aimee: How about boys? Are boys interested in it?
Gilda: No, not really. There are more into probably sports; baseball, becoming a police officer or…
Aimee: Okay.
Gilda: Yeah.
Aimee: So what happens if, you know, if 90 percent of the population, as you said, are so keen on beauty pageants, and then they want to become a model or an actress, what happens to those who cannot make it?
Gilda: Well, some of them will have probably a sort of frustrated life, some of them. Yeah. Some of them might change their mind once they, you know, grow up. Think of something different. But like, I work in a high school and most of the first year junior high school students, girls, they wear a lot of make-up. And they want to become one day, Miss Venezuela. Yeah.
Aimee: Wow. Wow. Do you find – or what's your opinion about that? What do you think?
Gilda: Well, I'm not supporting that. But since the country has so many crowns, there are many different pageants like Miss International, Universe, Miss World, Miss South America. There are so many. And Miss Venezuela has won a lot of crowns. So every time they get a new crown, it's a huge thing for the country. So they got the attention of everybody.
So as a teacher, I don't support it. But it's kind of like something nice, you know, for the country. You're getting something.
Aimee: So it sounds like it's a big source of national pride, would you say so?
Gilda: Exactly. Yes, yes. That's the way it is. Yeah.
Aimee: Interesting.
Gilda: So many people stay at home when they're broadcasting the Miss Venezuela.
Aimee: Hmm.
Gilda: Yeah.
Answer these questions about the interview.
Audio Lessons about Phrases and Vocabulary
surgery

They get surgery.
Surgery is a medical procedure to help or change a person's body. Notice the following:
I need surgery for my knee.

She had surgery on her nose.
economic situation

The economic situation is not good.
The economic situation refers to how the economy is doing. Notice the following:
The economic situation could be better.

More spending will help the economic situation.
easy money


It's easy money.
Easy money refers to earning money or income without much effort. Notice the following:
Making money online looks like easy money but it is not.

My part-time job is easy money.
keen on


You are keen on the pageants.
When you are keen on something you are interested in it. Notice the following:
I am not keen on going to college.

She is keen on getting a new job.
a huge thing


It's a huge thing.
A huge thing is something that is very popular or important for some people. Notice the following:
Karaoke contests is a huge thing in Asia.

The Super Bowl is a huge thing in the U.S.
national pride


It's a big source of national pride,
A national pride is something most people in a country are proud of. Notice the following:
The All Black Rubgy team is a source of pride in New Zealand.

German cars are a source of pride in Germany.
Vocabulary Quiz
economic • surgery • easy money
keen on • huge thing • national

---
Keep Listening
Here are some more great lessons!
Related Lessons

Video 1404
What is your best quality?

Video 1403
When do you like to dress up?
Other Lessons

#1402
Disc Golf
John explains his sport

1401
The Big Game
Invite to the Super Bowl.